TERMS & CONDITIONS
The deposit is non returnable in the case of cancellation of the booking.
A deposit of £20 per person is required to secure a booking. An official receipt for the deposit will be sent to you. If the receipt does not reach you within 7 days, please notify the Hotel.
Rooms must be vacated by 10.30am on the date of departure or an extra night may be charged. The Hotel accepts no responsibility for guests' property/valuables unless handed in for safe keeping and the Hotels official receipt is given for the item(s).
Accounts must be paid on arrival. Cheques will be accepted up to the limit given on the Bankers Card relating to the Bank account on which the cheque is drawn.
The proprietor (or a person acting as his agent) reserves the right to curtail any contract should the conduct of any person who is party to the contract cause any detriment to the well being or comfort of other guests or to any of the Hotel's employees.
* It is suggested that visitors might wish to take out insurance to cover the possibility of cancellation charges.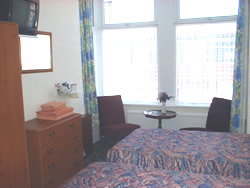 Sunnyhurst Hotel,
20 Reads Avenue,
Central Blackpool,
FY1 4BP
**SPECIAL OFFER for 2015** : ANY 4 Consecutive NIGHTS. BB & 4 Course Evening Meal(Excl Christmas & New Year)En-Suite Room. Only £98 per person. Includes Free Parking.Subject to availability .
Telephone: 01253 625312
e-mail: info@sunnyhursthotel.co.uk